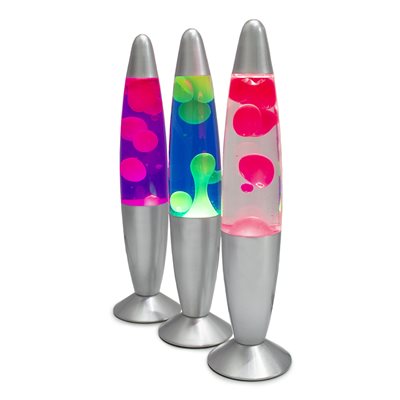 Press and move to zoom.
Mouse over image to zoom.
Wax Mood Lamp
Product Code: 4154000
This beautiful lava lamp will add a warm ambiance to any decor. Whether it's a bedroom, office or bedside table, it'll transform the room into a calm and enveloping place. Watch the fascinating movement of different sized wax drops as they collide, separate and unite around the glass globe of this peaceful lamp. Enjoy the relaxing and entertaining movement of this classic version of the timeless lamp.


Educational: aids in social-emotional learning through sensory exploration
Design: sensory and decorative tool
Sensory: provides a fascinating and realistic visual experience
Age: 5 years and up
Random colours: transparent water and pink wax, blue water and yellow wax or purple water and pink wax
Dimensions: 33 cm
Content: 1 relaxing effect lamp and a 25 watt bulb included
Composition: base made of aluminum
It is recommended that this product be handled with care under adult supervision. Use the lamp only indoors, keep away from sunlight and liquids of any kind.
Plug your lamp into an outlet, let it warm up and enjoy the relaxing effect of the lamp.

WARNING: Once turned on, the lamp becomes very hot!

When first used, the lamp may take an hour to warm up properly. After that, the warm-up time will be reduced as the number of uses increases. It can also vary depending on the ambient temperature. The lamp works best when it is not used for more than 10 consecutive hours.
reviews True