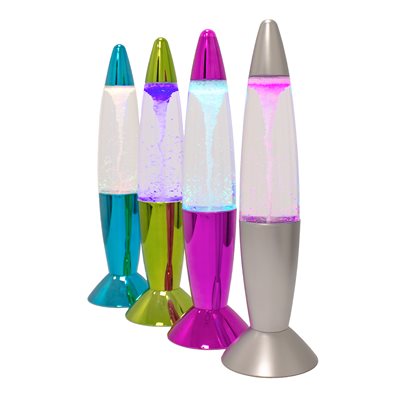 Press and move to zoom.
Mouse over image to zoom.
Tornado Lamp
Product Code: 4151000
This portable version of the tornado lamp changes colours to add a warm ambience to any decor. It'll fascinate young and older alike, in addition to reducing stress and creating a soothing effect. Whether in a bedroom, office, or bedside table, it'll transform the room into a comforting place. You'll see, the darker the space, the more magical the effect. Stimulate your senses with the little glitters that will all be moving in the same direction!


Educational: aids in socioemotional learning through sensory exploration
Design: sensory and decorative tool
Sensory: provides a fascinating and realistic visual experience
Age: 8 years and up
Random colours: green, pink, blue or silver
Dimensions: 35 cm
Content: 1 tornado effect lamp, an on/off switch at the bottom of the lamp, USB cable and 3 AA batteries included
Composition: container and base made of plastic
Use the lamp only indoors, keep away from sunlight and liquids of any kind.
Once your lamp is on, wait about 30 seconds for the effect to be in full motion.
reviews True