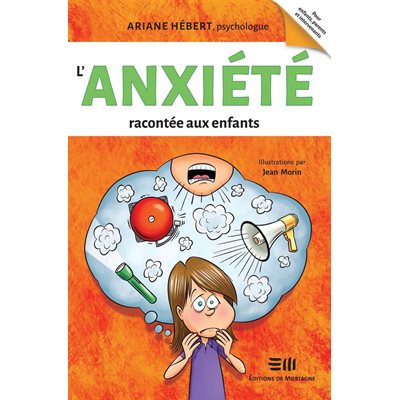 Press and move to zoom.
Mouse over image to zoom.
L'anxiété racontée aux enfants
Product Code: 3554100
Béatrice est bouleversée d'apprendre que les malaises qu'elle ressent ont une cause : l'anxiété ! Avec le soutien d'une psychologue zoothérapeute et de ses collègues à quatre pattes, la jeune fille découvre les différentes facettes des troubles anxieux et comment les apprivoiser.

Votre enfant voit-il des dangers partout ? S'alarme-t-il sans raison ? Envisage-t-il le pire de toute situation ? Perçoit-il les tâches à accomplir comme une montagne ? A-t-il peur de l'échec ? Si vous avez répondu oui à l'une de ces questions, ce conte illustré vous permettra d'aborder l'anxiété avec lui, d'une façon simple et imagée.

Aidez aussi votre enfant à mieux comprendre ses symptômes grâce à la section « auto-observation » de ce petit livre sympathique et coloré.
Faites le plein de trucs applicables au quotidien afin de surmonter les difficultés liées à l'anxiété. Vous verrez, ce n'est pas si compliqué !
Un outil indispensable pour les parents, les intervenants et les enfants ! 54 pages

Available in French only.

reviews False