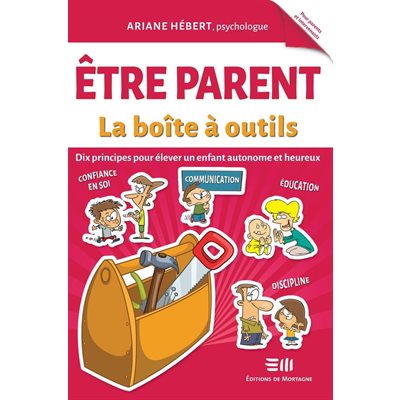 Press and move to zoom.
Mouse over image to zoom.
Être parent : La boîte à outils
Product Code: 3746000
Vous désirez savoir comment bien accompagner votre enfant pour qu'il devienne un adulte responsable et autonome? Alors ce livre est pour vous!
Être parent est un défi quotidien, et il n'existe malheureusement pas de manuel d'instruction! Cependant, pour guider son enfant vers l'autonomie et en faire un être épanoui, il existe certains principes de base. Ils vous sont présentés dans ce livre afin que vous vous sentiez mieux outillé pour jouer votre rôle. À la lecture de cette boîte à outils, vous comprendrez que :

Le cadre, les règles et les limites ne sont pas optionnels.
Vous devez être une source de frustration pour votre enfant.
Les enfants agissent différemment en fonction des gens à qui ils ont affaire.
L'apprentissage de l'autonomie est parfois difficile.
La réalité importe peu, seule compte la perception.
La paix finit toujours par coûter cher.
Savoir bien se comporter n'est pas inné.
La confiance en soi doit être bien dosée.
Le bonheur passe par l'action.
Ponctué de faits vécus et de cas cliniques, cet ouvrage sympathique stimulera vos réflexions et sera à coup sûr une aide précieuse pour tout parent. Car l'apprentissage n'est jamais fini !
Available in French only
reviews False