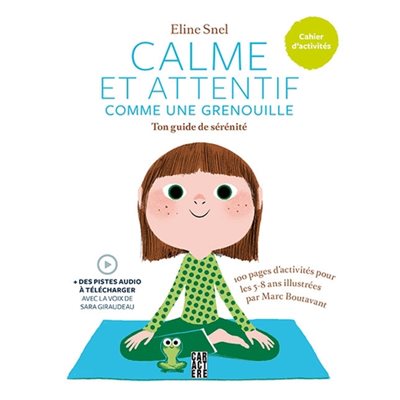 Press and move to zoom.
Mouse over image to zoom.
Calme et attentif comme une grenouille
Product Code: 3851000
Les enfants d'aujourd'hui sont souvent agités, dispersés, stressés. Comment les aider à s'apaiser? Comment leur apprendre à se concentrer? La méditation est un outil simple et efficace. Elle s'adapte parfaitement aux besoins des petits et leur procure des bénéfices immédiats. Calme et attentif comme une grenouille propose de brefs exercices pour tous les jours. Il est destiné aux enfants de 5 à 12 ans et à leurs parents.

Original et plein de charme, ce livre, écrit par une thérapeute ayant plusieurs années d'expérience auprès des enfants, propose de brefs exercices à faire au quotidien, sur le chemin de l'école, à table ou en regardant un film. Avec des histoires de grenouilles, d'écureuils ou de petites araignées, l'enfant apprend à accueillir avec bienveillance pensées, sensations, respiration… avec l'objectif de tranquillement les découvrir, les accepter et les maîtriser.


Vous pourrez télécharger une dizaine de méditations de 4 à 10 minutes qui permettent à l'enfant de mieux réagir dans diverses situations : réussir à s'endormir, diriger son attention, se sentir en sécurité, éviter les réactions impulsives, stopper les pensées qui tourbillonnent...
Characteristics :
Available in French only
Number of pages: 144 pages
reviews False