Press and move to zoom.
Mouse over image to zoom.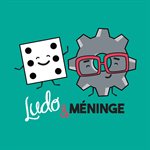 Bug hunt
Product Code: 4110000
Take part in a bug hunt that will stimulate your sense of observation and your speed of execution. Will you be the first to identify the bugs, memorize them and grab the magnifying glass before your game partners? Get your magnifying glasses and nets, set… go!

This game is ideal for the budding hunter in you. It allows you to work on several skills such as impulsiveness and memory. Speed of execution and deduction skills are also in the spotlight since the winner is the one who figures out the missing bug in his cards the fastest. It is also possible to adapt the game to different age groups.


Educational: stimulates impulsivity, speed of execution, memory and deductive capacity.
Scalable: offers 3 levels of difficulty.
Sharing: reinforces the collaboration between your family members.
Age: 6 years and up
Number of players: 2 to 4 players.
Dimensions: 27 x 27 x 5,5 cm
Content: 24 bugs, 1 magnifying glass,36 Bug cards, 4 Net cards, 6 Special cards, 24 leaves and the game rules.
reviews False