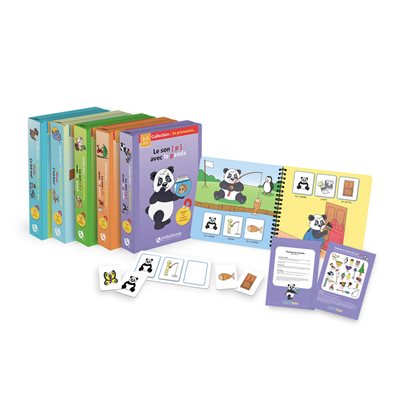 Press and move to zoom.
Mouse over image to zoom.
Coffret Prononciation - lettre P, F, K, Ouille, Mmm
Product Code: 2967001
L'objectif de ce coffret symbolicone est de faciliter la prononciation des sons [p, f, k, ouille, mmm] en début de mot ou encore d'un son particulier et de développer le vocabulaire de base tout en stimulant les structures de phrases simples. Créés par une orthophoniste, ces livres-jeux s'adressent tant aux enfants verbaux qu'à ceux ayant besoin de signes ou d'images pour s'exprimer en attendant l'apparition de la parole. Le vocabulaire est choisi de manière à ce que l'enfant puisse par la suite l'intégrer dans son quotidien. Ceci facilite ainsi la communication et peut se répercuter de façon positive sur ses comportements et, par le fait même, sur ses interactions.

5 titres:

Panda
Fourmi
Canard
Ouille ça fait mal
Mmm c'est bon
Chaque ensemble contient 3 jeux avec 24 pièces magnétiques.
Available in French only.